Artfully Designed for Full-Body Skin Brilliance and Well-Being 

TotalSpectrum ULTRA

 - FDA Registered & 

CE, RoHS Certified

The RLT Home TotalSpectrum ULTRA is designed for Full Body, Beauty & medical treatment. Exquisite appearance, rich functions. Integrated module lens & center dual-chip design, super high irradiance value. Intelligent touch screen, intelligent voice control, built-in and Bluetooth music, providing high-end quality enjoyment. For both full body & half body therapy, matching manual or electric adjustable stand.

1. CE Certificates:
   - The CE marking is a certification that indicates a product meets the health, safety, and environmental protection standards for products sold within the European Economic Area (EEA).
   - We have two CE certificates for our LED lights. These certificates confirm:
     - Compliance with the European Low Voltage Directive, ensuring the product's electrical safety.
     - Compliance with the Electromagnetic Compatibility Directive, ensuring the product won't interfere with other electronic devices or cause electromagnetic disturbances.

2. RoHS Certificate:
   - RoHS stands for Restriction of Hazardous Substances. This certification ensures that our products have limited or no hazardous materials that are harmful to the environment and users.
   - Our LED lights comply with the RoHS Directive, ensuring they're environmentally friendly and safe for use.

In simpler terms, these certificates ensure that our products are safe, environmentally friendly, and compliant with both European and U.S. standards. 

We take pride in offering high-quality products, and these certifications are a testament to our commitment to excellence.
7 Bands - 610nm, 630nm, 660nm, 810nm, 830nm, 850nm and 450nm

Precision-Crafted Wellness: Embrace the Science of TotalSpectrum ULTRA's Seven Wavelengths
Strategic Wavelength Selection for Maximal Benefit: The RLT-Home TotalSpectrum ULTRA emerges at the forefront with its seven strategically chosen wavelengths, meticulously crafted from the wisdom of hundreds of scientific studies, ensuring a targeted and efficient therapeutic approach.
450nm (Blue Light): Addresses skin concerns by targeting and neutralizing acne-causing bacteria.
610nm: Revitalizes and brightens complexion, ushering in a luminous, youthful glow.
630nm & 660nm: Focus on enhancing skin health by smoothing fine lines and stimulating collagen.
810nm, 830nm, & 850nm: Near-infrared wavelengths proficient in penetrating deep tissues, enhancing muscle recovery, strengthening joint health, and promoting restful sleep.
Patented Technology, Grounded in Research: The proprietary technology that powers our RLT-Home TotalSpectrum ULTRA is not only patented but also solidified by robust scientific research, providing a substantiated wellness tool that transcends the capabilities of more limited bands.
Read: Why we chose these 6 Red and NIR Wavelengths
A Step Beyond Conventional Therapy: While 2 or 4 band panels might provide a glimpse into the benefits of red light therapy, they potentially miss the depth and specificity offered by more comprehensive wavelength options. The TotalSpectrum ULTRA doesn't just provide therapy; it ensures a targeted, versatile, and all-encompassing wellness experience, making it a reliable partner in your holistic health and beauty journey.
Market Leading Irradiance or Power Density Measured with a Solar Powered Meter and a Top End Spectrometer
Solar Power Meter:

Irradiance at 0 inches: 245mW/cm2
Irradiance at 4 inches: 199mW/cm2
Irradiance at 8 inches: 174mW/cm2
Irradiance at 12 inches: 160mW/cm2

(As measured using a solar power meter)

Spectrometer: 

Irradiance at 0 inches: 680mW/cm2
Irradiance at 3 inches: 193.6mW/cm2
Irradiance at 6 inches: 137mW/cm2
Irradiance at 12 inches: 117.14mW/cm2

(As measured using a spectrometer)
Tech Specs
| | | | |
| --- | --- | --- | --- |
| Item | TotalSpectrum ULTRA | LED | 480 x 5W 3535 LED |
| Spectrum | 7 bands: Red+NIR+Blue | Beam Angle | 15/30/60 mixed degrees |
| Control way | Touch key & display | Pulse | 0-9999Hz |
| EMF Emisson | 0.0μT | Flicker | Flicker-free |
| Warranty | Two years | Use way | Horizontal/vertical stand |
| Weight | 18KG / 39.6LB | Size | 1635x300x75mm / 64.3"x11.8"x 3" |
Special Features

Voice Control for Effortless Usage: Take control of your wellness journey with the convenience of voice commands. Adjust settings, switch between modes, and customize your experience without lifting a finger.
Precise 7-Band Spectrum: The RLT-Home TotalSpectrum ULTRA harnesses the power of a 7-band spectrum, ensuring you receive a comprehensive range of therapeutic wavelengths for maximum effectiveness.
Flicker-Free Performance: Experience uninterrupted comfort during your therapy sessions. The RLT-Home TotalSpectrum ULTRA is engineered to eliminate flicker, providing you with seamless and consistent light therapy every time.
Six Modes for Ultimate Versatility (Choose from 6 meticulously curated modes):
Acne: Reduce acne by promoting healing, reducing inflammation, and targeting the bacteria that contribute to acne development.
Fat Burning: Reduction of fat and cellulite by penetrating skin and targeting fat cells, encouraging lipolysis and boosting metabolism.
Hair care: Targets scalp health and hair growth by stimulating follicles, improving blood circulation, and nourishing roots. Helps reduce hair loss and strengthen hair, promoting thicker, healthier growth.
Skin Repair: Stimulating collagen production and increasing blood flow,& this mode contributes to healthier, more radiant skin, and helps to reduce the appearance of fine lines and wrinkles.
Relaxation: The soothing effects of our relaxation mode can reduce stress and promote a sense of calm, aiding in relaxation and mental well-being.
Sleep Optimization: This mode helps to regulate circadian rhythms and melatonin production, promoting better sleep quality and helping to alleviate insomnia.
Advanced Spectral Output (R+ | NIR+ Technology): Our exclusive R+ | NIR+ Advanced Spectral Output sets the RLT-Home TotalSpectrum ULTRA apart from the rest. With 6 distinct modes, each designed to optimize different facets of your well-being, you can tailor your therapy sessions according to your preferences and requirements.
Disclaimer:
The panel herein is tailored for fostering general wellness, and the information dispensed is for educational purposes only. Before embarking on new wellness endeavors such as fitness, dietary alterations, or supplementation, it's prudent to consult with your wellness practitioner to ensure no conflicts arise with your existing health condition. Engaging with RLT Home products or information does not serve as a substitute for medical counsel or treatment and should not be recognized as such. For personalized advice on how to adeptly integrate red light therapy into your wellness routine, consulting with your physician or a competent biohacking coach is recommended.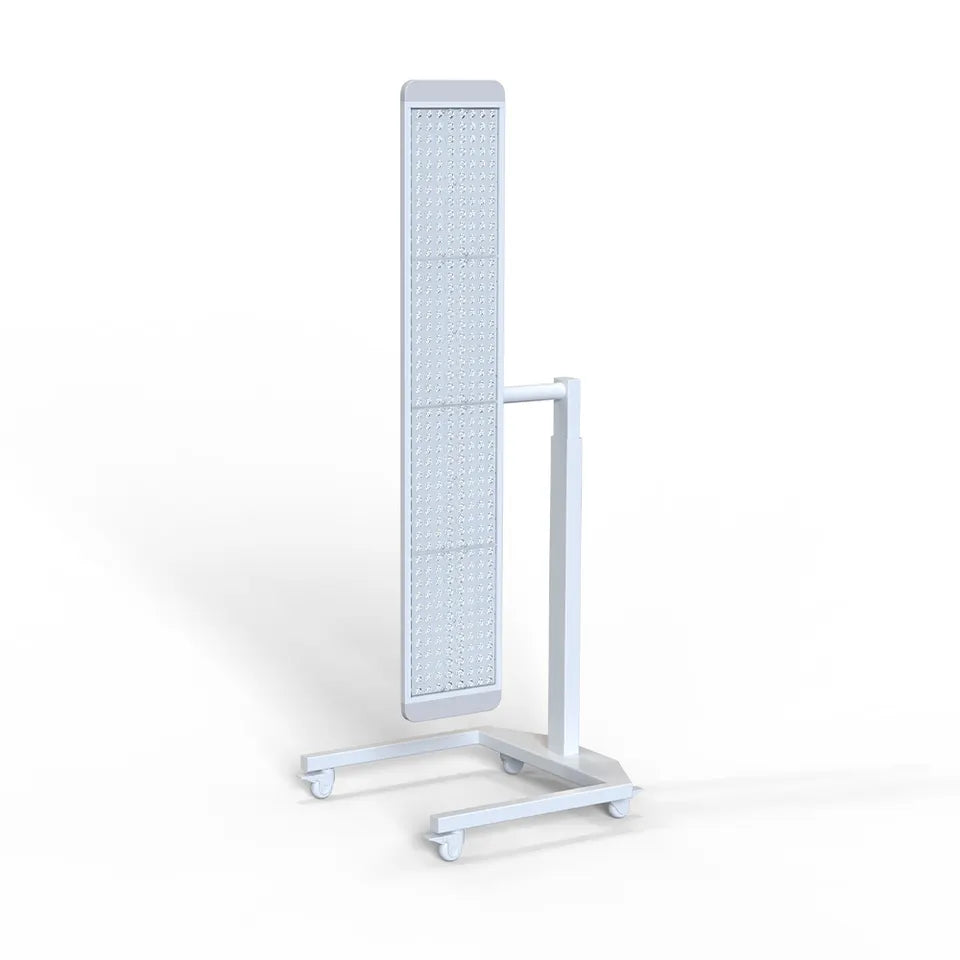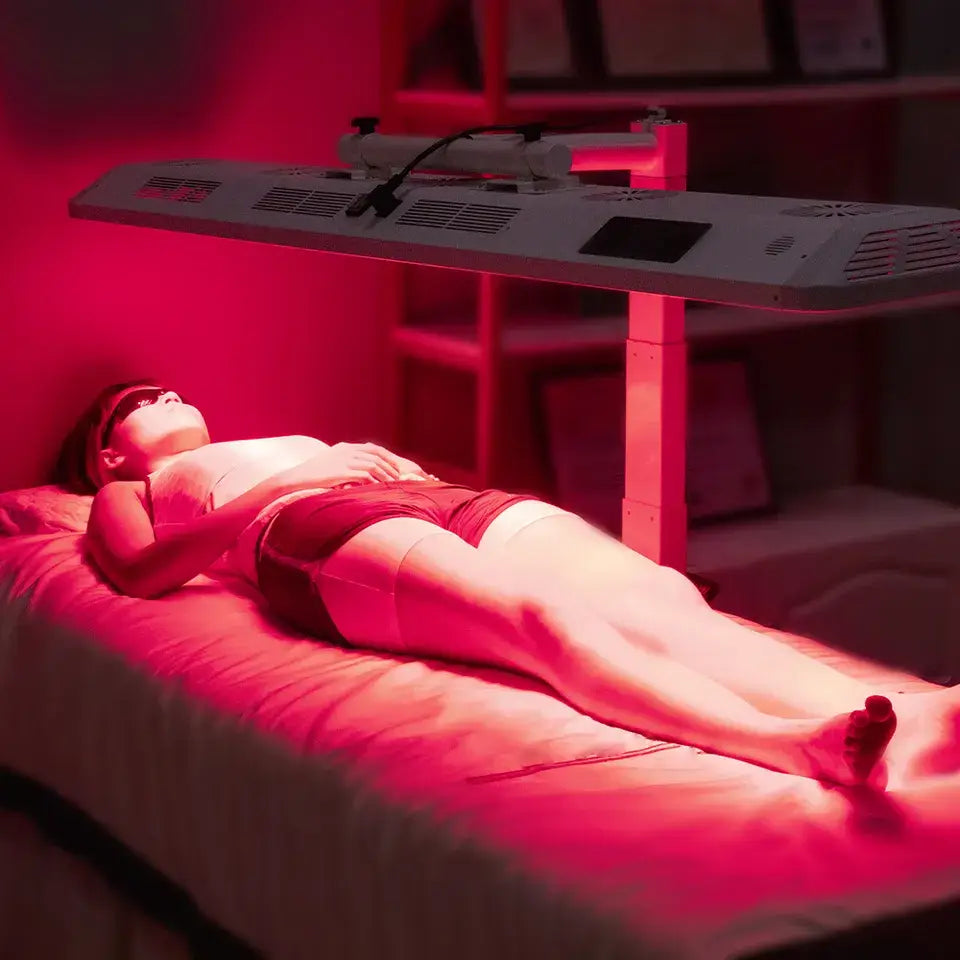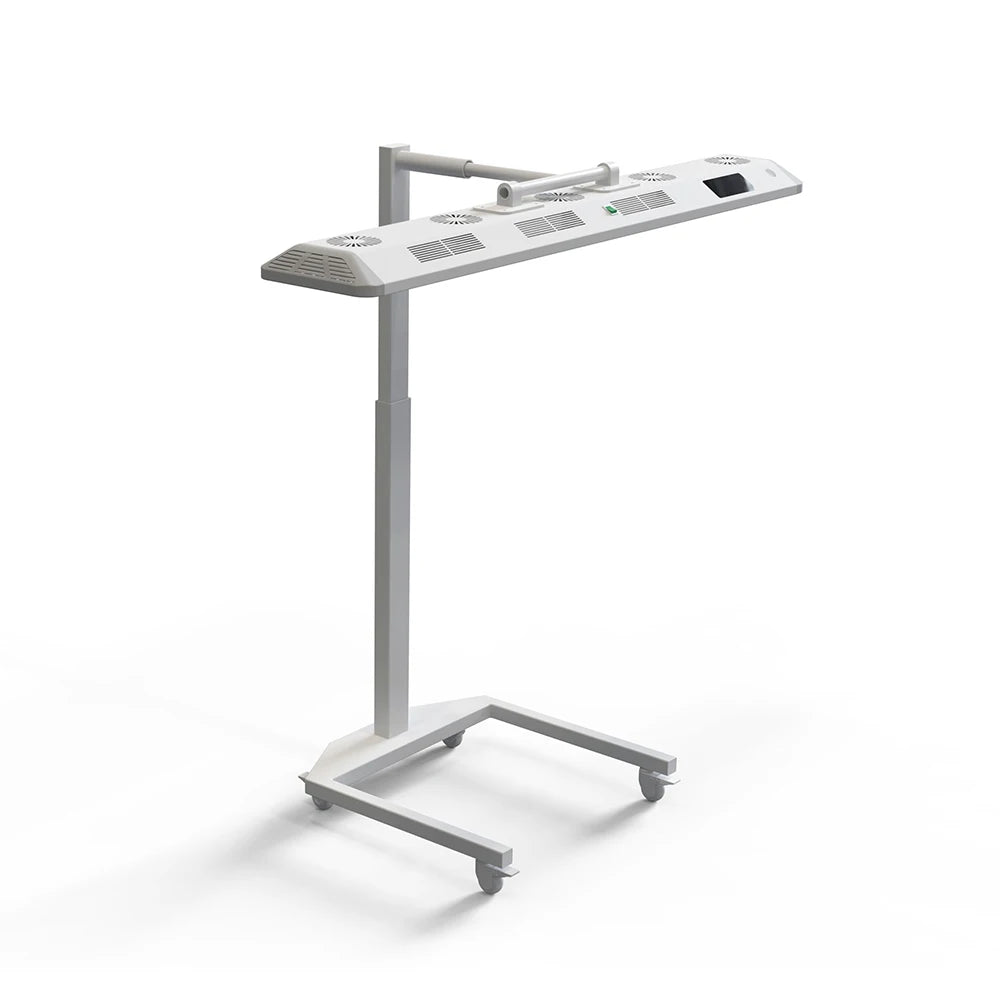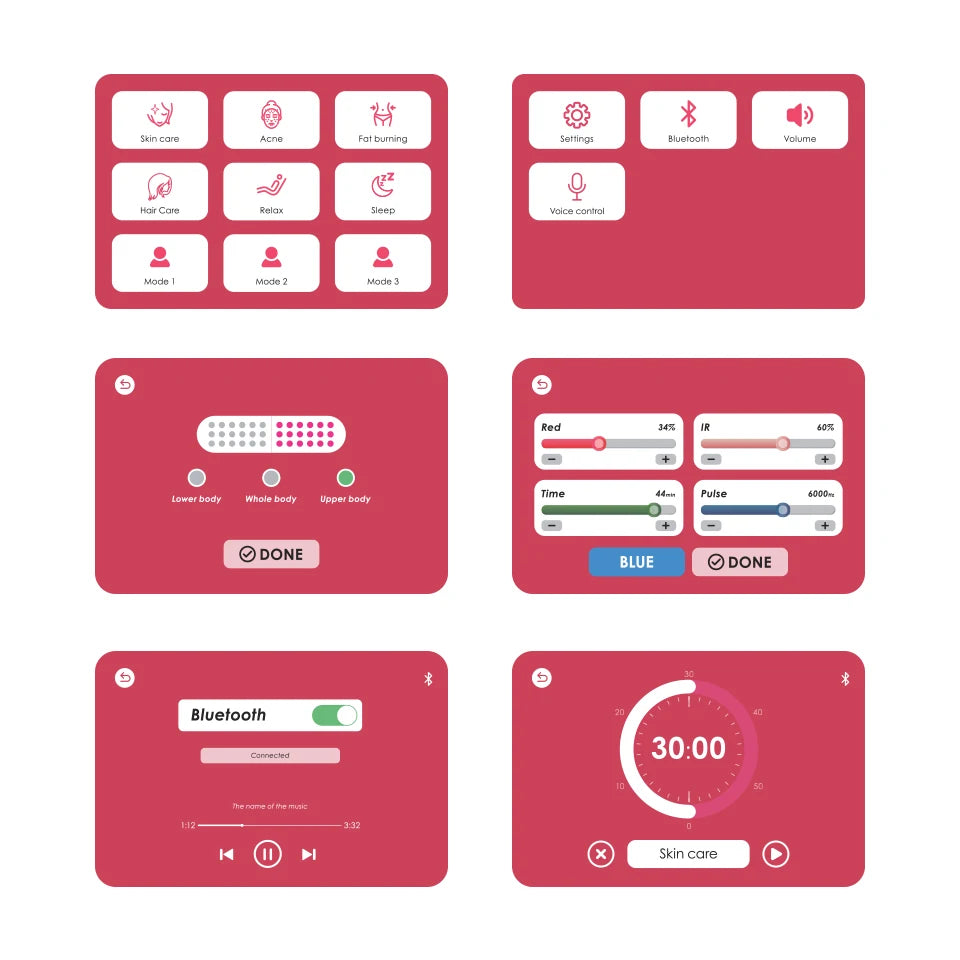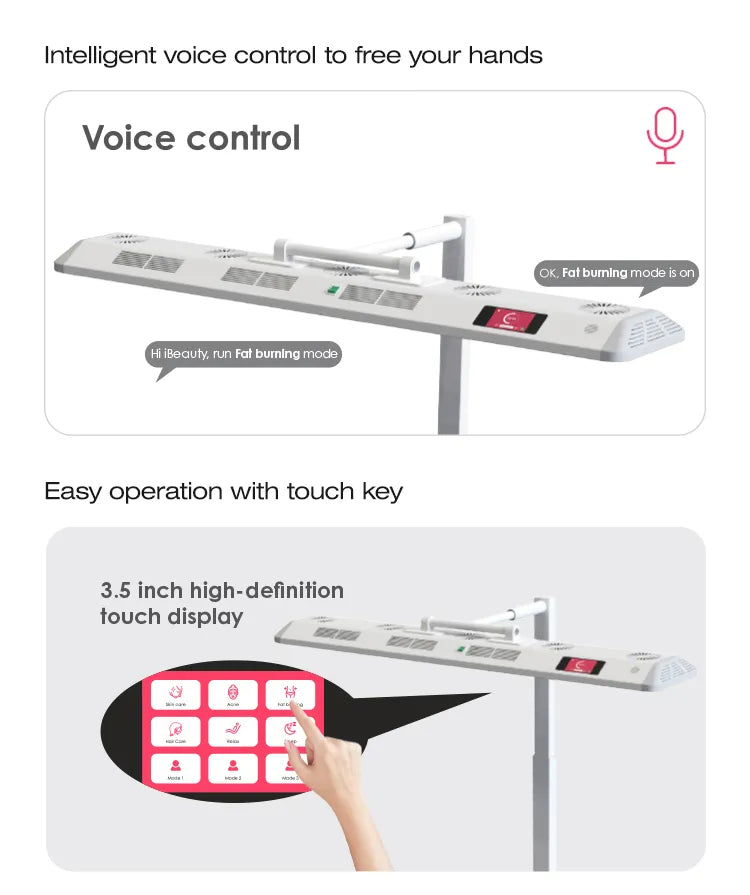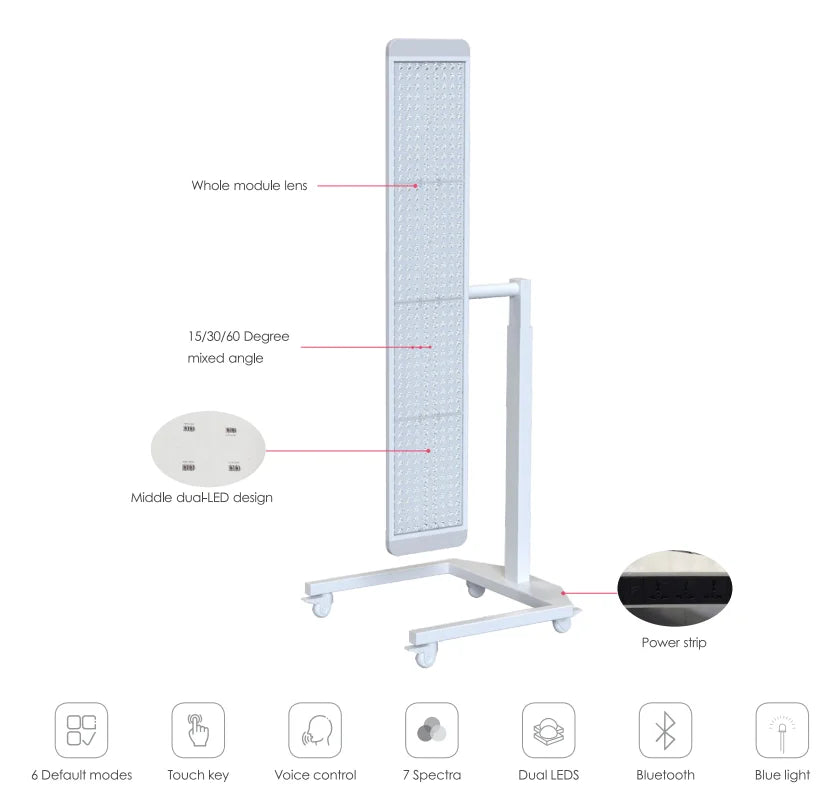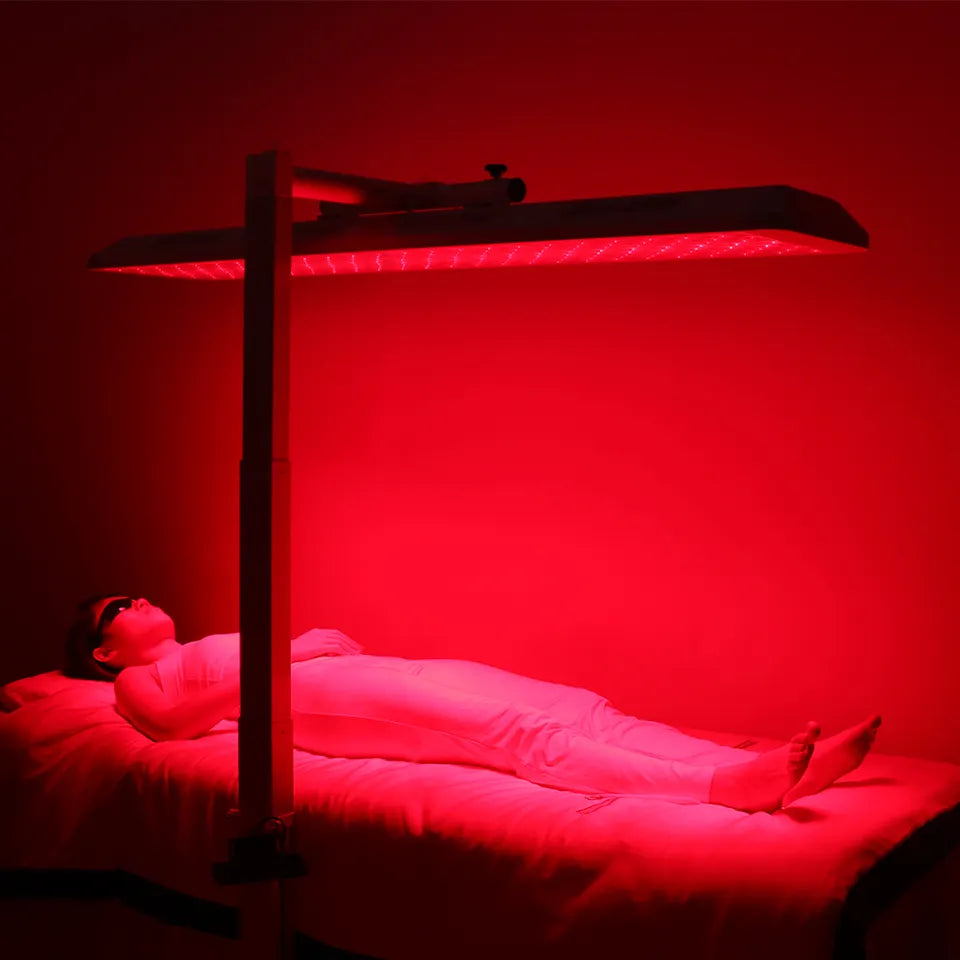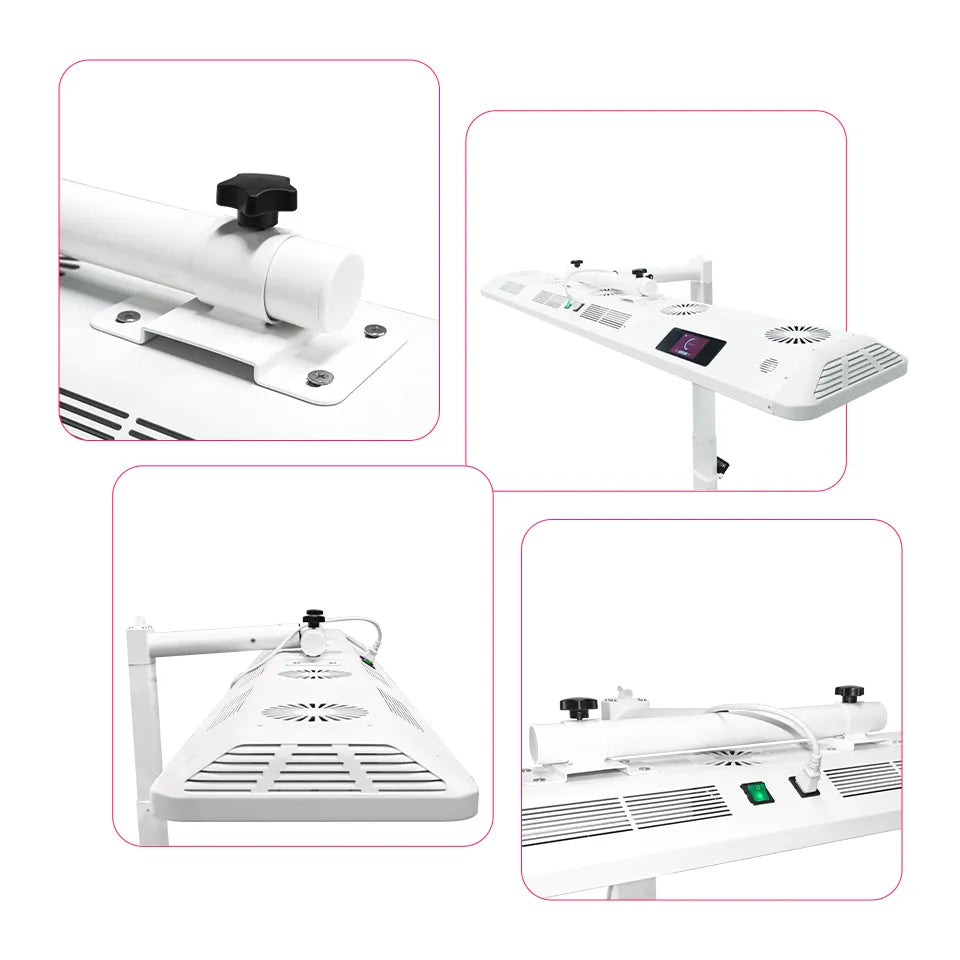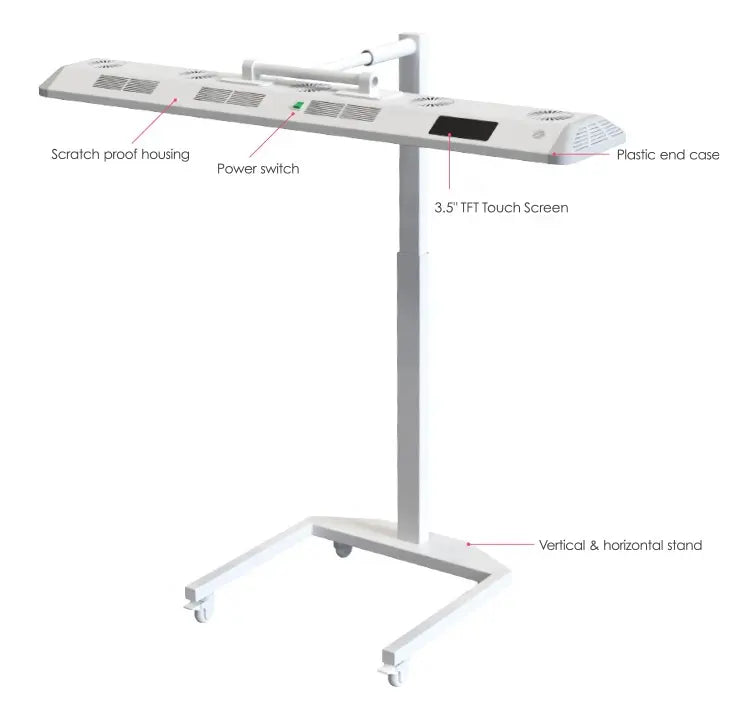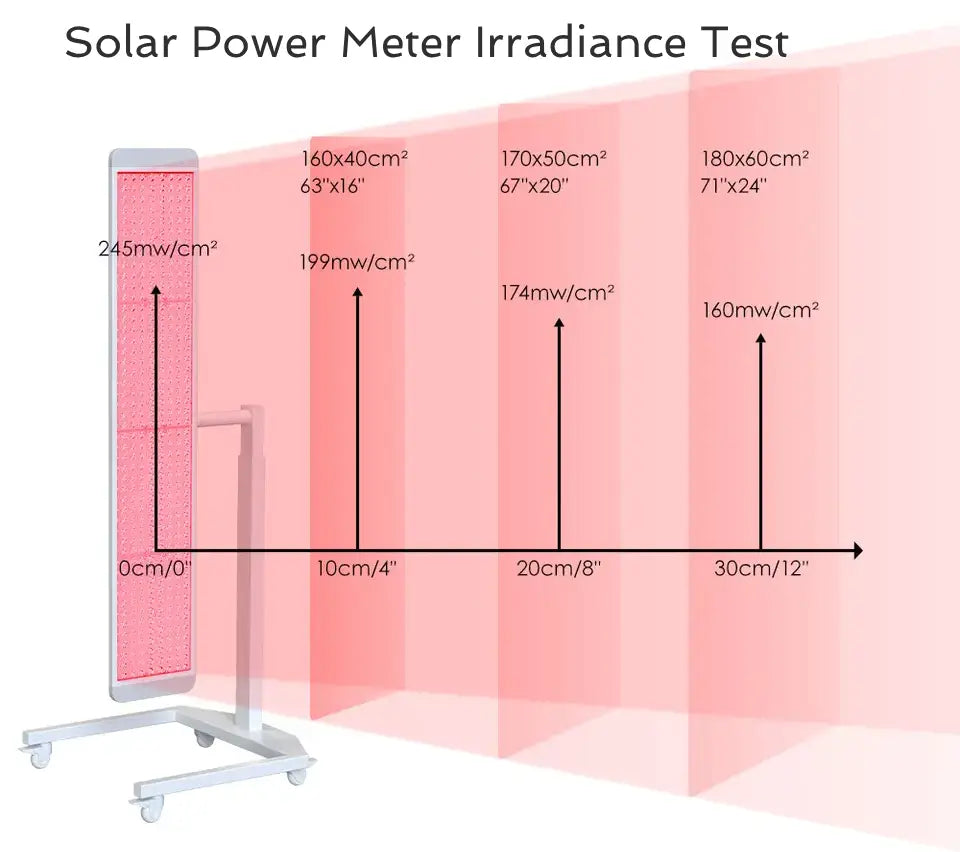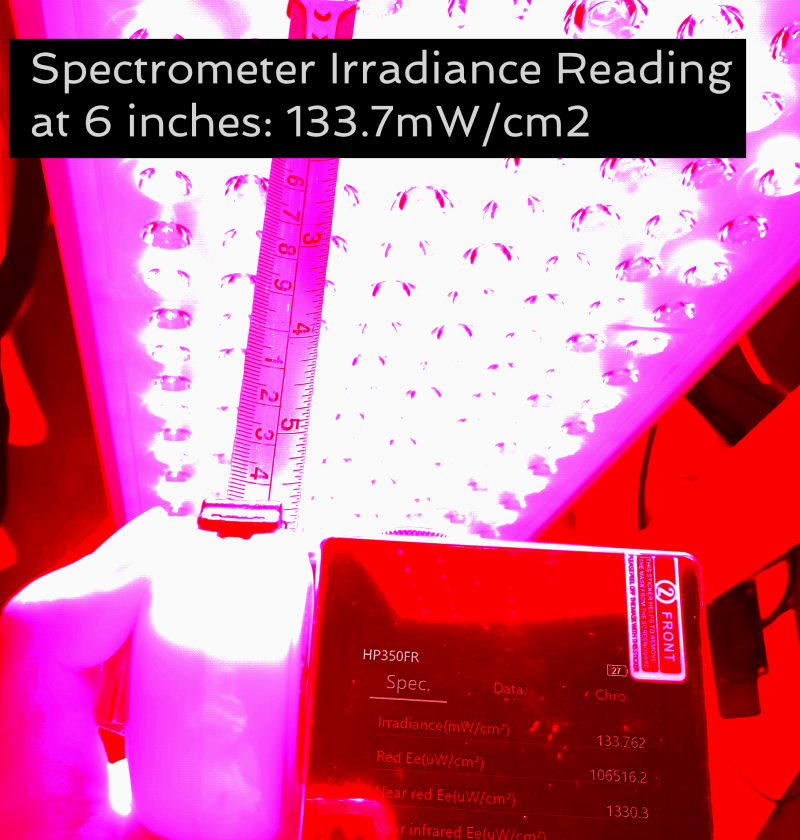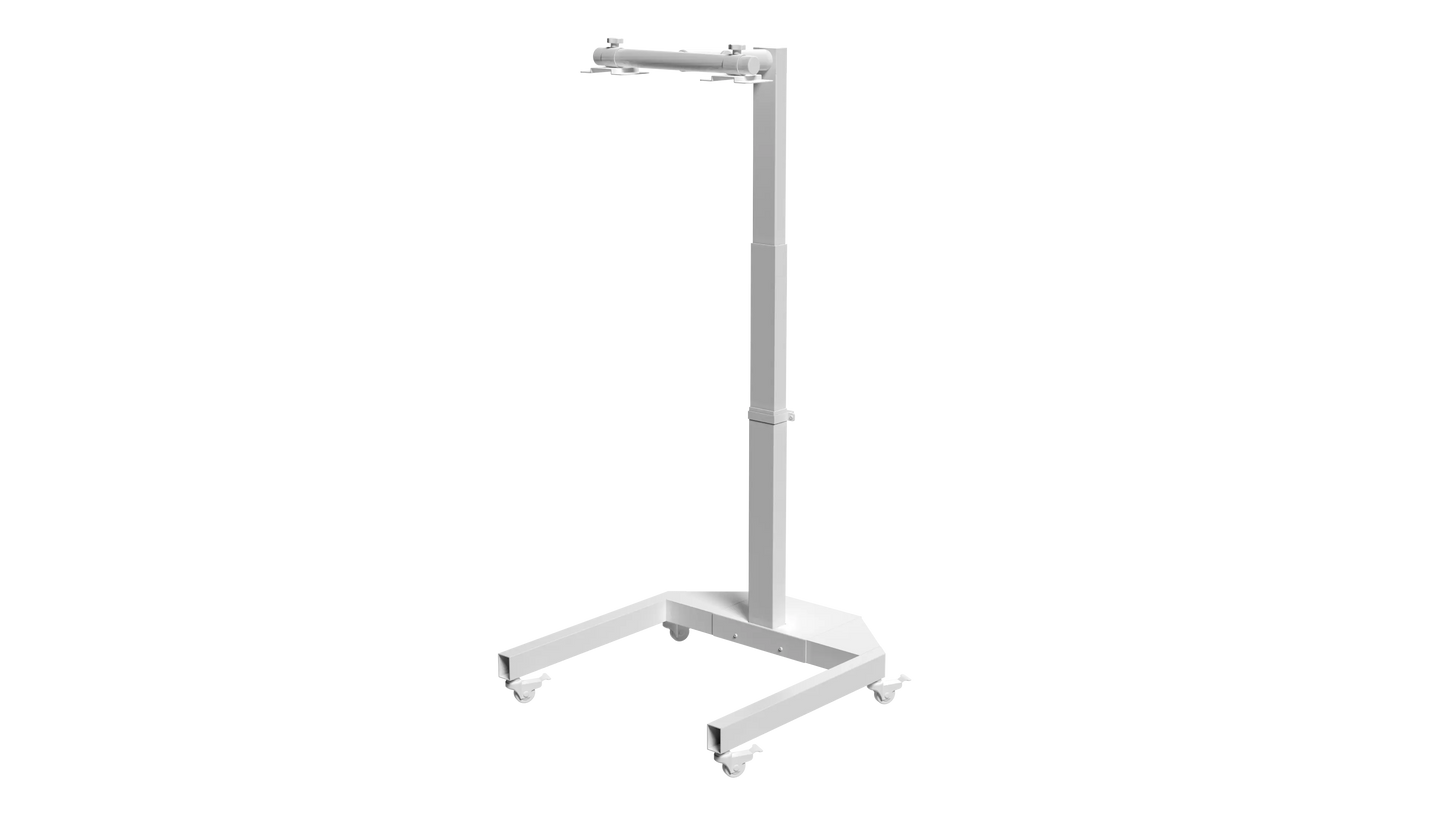 A TotalSpectrum Series Comparison
 
MINI
COMPACT
MAX
ULTRA
# of LEDs
64
152
304
480
LED Wattage
5W

5W

5W

5W

Power Consumption
120W

280W

550W

850W

LED Type
3535 LED

3535 LED

3535 LED

3535 Dual LED

Wavelengths
6
6
6
7
Wavelength nms
610nm 630nm
660nm 810nm
830nm 850nm 

610nm 630nm




660nm 810nm




830nm 850nm 

610nm 630nm




660nm 810nm




830nm 850nm 

450nm 610nm
630nm 660nm
810nm 830nm
850nm 
Irradiance @ 8 inches (Solar power meter)
170 mW /cm2

172 mW/ cm2

172 mW/ cm2

174 mW/ cm2

Irradiance @ 6 inches (Spectrometer)
98.3 mW /cm2

110.5 mW/ cm2

126 mW/ cm2

134 mW/ cm2

EMF
0.0μT IMF

0.0μT IMF

0.0μT IMF

0.0μT IMF

Flicker
None

None

None

None

FDA Registered & CE, RoHS Certified?
Yes

Yes

Yes

Yes

Pulsing?

Yes

Yes

Yes

Yes

Voice control?

Yes

Yes

Yes

Yes

Touch control?

Yes

Yes

Yes

Yes

Performance Modes

7

7

7

6

Modes
Fitness
Fat burning
Muscle Recovery
Inflammation
Skin Care
Sleep 
Elderly Health
Custom


Yes

Yes

Yes


Acne




Fat Burn




Hair Care




Skin Repair




Relax




Sleep



Beam angle

30 degrees

30 degrees

30 degrees

15/ 30/ 60 deg mixed 

Treatment area

Small

Medium

Large

Full Body

Size

300 x 260 x 60mm OR 12.2" x 10.5" x 2.4"

600 x 260 x 60mm OR 23.6" x 10.5" x 2.4"

1090 x 260 x 60mm 42.9" x 10.5" x 2.4"

1635 x 300 x 75mm OR 
64.3" x 11.8" x 3"
Weight

3.5KG /  7.7LB

7.5KG / 16.5LB

11KG / 24.2LB

18KG / 39.6LB

Stand provided?

Yes

Yes

Yes

Manual
Electric Stand
Can Be Bought

Door & Wall Mount Provided?

No

No

No

No

Reading Friendly Eye Protection Goggles provided?

Yes

Yes

Yes

Yes

Bluetooth music?

No

No

No

Yes

Warranty
2 years
2 years
2 years
2 years
Returns from date of receiving the product
30 days

30 days

30 days

60 days

Buy Now!
Buy Now!
Buy Now!
Buy Now!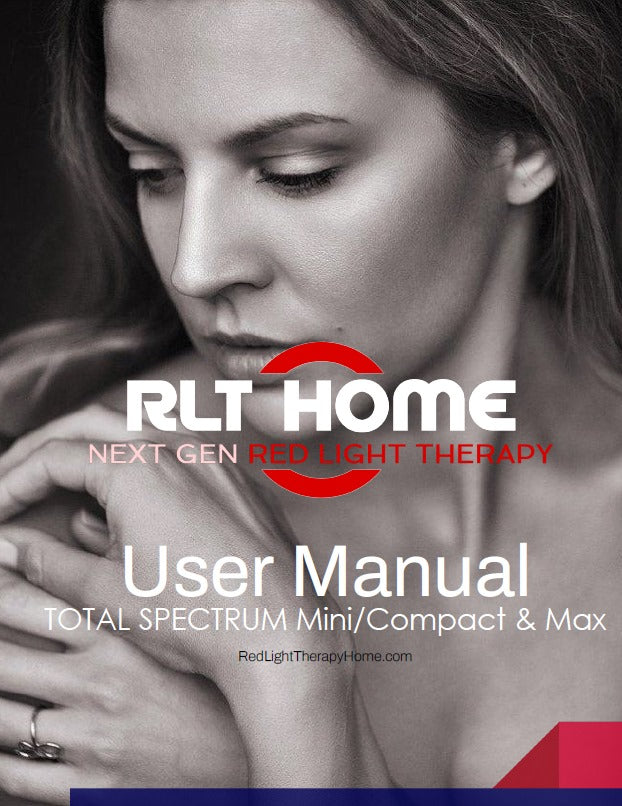 Download Our Free RLT-Home TotalSpectrum User Manual
Welcome to the world of Science backed Red Light Therapy by RLT Home.
We hope our world class patented panels will help you on your recovery journey.
Free PDF Download